Skip to Content
Choose the Right Water Heater for Your Home
Your home's water heater is responsible for distributing hot water to your bathtubs, showers, sinks, dishwashers, and washing machines. At Speedy Water Heaters, our master plumber has over 25 years of experience providing homeowners throughout Anne Arundel and Howard Counties of Maryland with hot water heater installation and replacement services. Our fast and friendly team always strives to provide the very best service to our valued homeowners and business owners. There are many types of water heaters available on the market. We have the knowledge, the tools, and the training to ensure that you make the right decision and that your equipment is installed fast and uses the highest quality parts so you can enjoy the convenience of cooking and clean with hot water for many years to come. In many cases, we offer same-day installation for homeowners who schedule their service before 10:00 AM. Learn more about the water heater types we offer, and then contact us today to schedule your no-pressure estimate.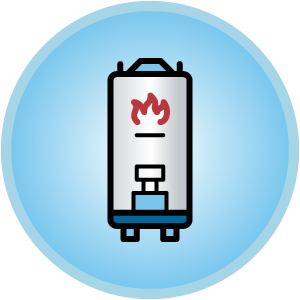 Tank Type Water Heaters
Tank-type water heaters have been the standard water heater in the United States for most of our history. While they may vary in capacity and energy source, each one operates in a similar way. They rely on a large reserve tank to store hot water. Cold water enters the water heater and is then heated using an electric heating element in the case of the electric tank water heater or with a controlled fire when it comes to natural gas or propane. The heated water is then distributed throughout your home to the sinks, bathtubs, showers, washing machine, and more. Over the years, technology has improved the tank-type water heater, making the tank-type water heater the most reliable and trouble-free of all water heaters.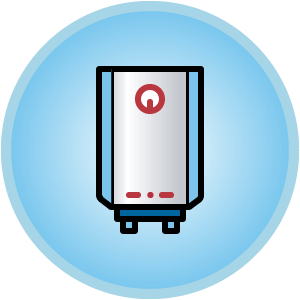 Tankless Water Heaters
Tankless water heaters are a very nice option for large residential homes with growing families. Busy restaurants with lots of dishes to wash and hotels doing more than your average amount of laundry often love having tankless water heaters over the tank style.  They do not have a reserve tank.  Instead, they make hot water instantly with the use of fire and a heat exchanger. The result is endless hot water.   This requires natural gas or propane to power the unit.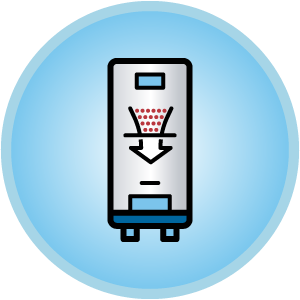 Hybrid Water Heaters
A hybrid water heater combines the features of a standard electric water heater and a heat pump to provide your home with hot water. The result is savings!  This is the most energy-efficient way to heat water.  The hybrid water heater works by transferring the heat in the air around the tank to the reserve of water within the tank. This efficient transfer process allows you to save money while heating your water. Ask one of our water heater professionals about energy-saving hybrid electric water heaters.
We're the Trusted Professionals for Water Heater Services
When you choose Speedy Water Heaters for your water heater replacement services, our friendly plumbers will help you make the right water heater choice for your home. Not every kind of water heater is right for every home. Each type of water heater offers different benefits. Our team will help you identify what is most important for your individual needs. We are happy to answer any questions you may have about any of our products and water heating systems. If you need a water heater replacement, call before 10:00 AM, and many times we can replace it for you on the same day!
Speedy Water Heaters: The Fastest Way to Hot Water