Skip to Content
Speedy Water Heaters Is the Name to Trust for Plumbing Services
Speedy Water Heaters has been providing homeowners in Anne Arundel and Howard Counties, MD with general plumbing and water heater installation for decades. As a locally-owned company, we have a stake in every plumbing project we complete. We're not just assisting a number on a spreadsheet. You're our friends, neighbors, and community members. When you choose us, we take the time to answer any questions you may have about the service we recommend. Our Master Plumber has decades of industry experience, so you can feel confident that if there's a plumbing issue in your home, we'll be able to fix it for you. We always aim to arrive at your home on time and prepared to work.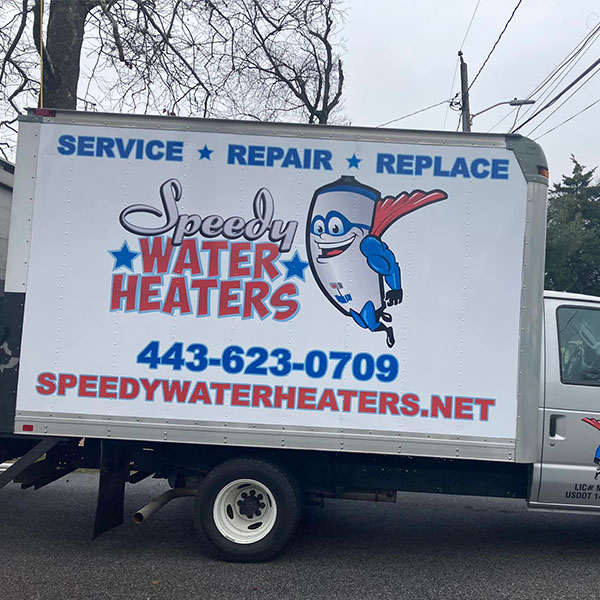 Why Homeowners Choose Us
As a small business, our goal is to provide superior customer service. We take a hometown approach that ensures each customer is satisfied with the level of our service. Our team uses high-quality parts and products to ensure long-lasting results. Whether you contact us for a simple drain cleaning or you need same-day water heater replacement services, our goal is to make you a customer for life. Homeowners throughout the area choose us because:
We're Local – Unlike large franchises that offer the same solutions for every problem, we take a customized approach to your plumbing services. We understand the importance of your home's plumbing and provide the right service to complete the job.
We're Friendly – Once we've identified the problem, we'll walk you through the entire process from start to finish so you know exactly what to expect. Our team is always happy to answer any questions you may have about our services.
We're Experienced – Timing is everything when it comes to your home's plumbing. Our Master Plumber has over 25 years of experience, so he can quickly diagnose and repair the issue to minimize damage to your home.
We're Licensed – Choosing a licensed plumber is crucial. Poorly done DIY projects can lead to more significant damage to your home and more costly repairs in the future.
Choose the Experienced Pros at Speedy Water Heaters
Trust the experts at Speedy Water Heaters when you need high-quality plumbing services for your home. We never subcontract our work. Instead, every project is overseen by a licensed and trained plumber. Our Master Plumber has over 25 years of experience and is available to answer any questions you may have. We strive to provide fast and high-quality services. Contact us before 10:00 AM for same-day water heater replacement services.
Speedy Water Heaters: The Fastest Way to Hot Water